Why do I need a Cloud Backup for Office 365?
Whenever people hear about a cloud Office365 backup, the first question that normally comes to mind is: "Why do I need to back up my Office 365 Exchange Online, SharePoint Online and OneDrive for Business?" This question is normally instantaneously followed up with a statement similar to this: "Microsoft takes care of it."

Well, it is true that Microsoft provides a wide array of powerful services within Office 365, but a comprehensive backup of your Office 365 data is obviously not one of them. Microsoft does offer a few different recycle bin options; however, they can only help you with limited, short-term data loss recovery. For you to be in complete control of your data, "limited" can't check the box. Without a backup of Office 365, you can fall victim to retention policy gaps and data loss dangers. You also open yourself up to some serious internal and external security risks, as well as regulatory exposure.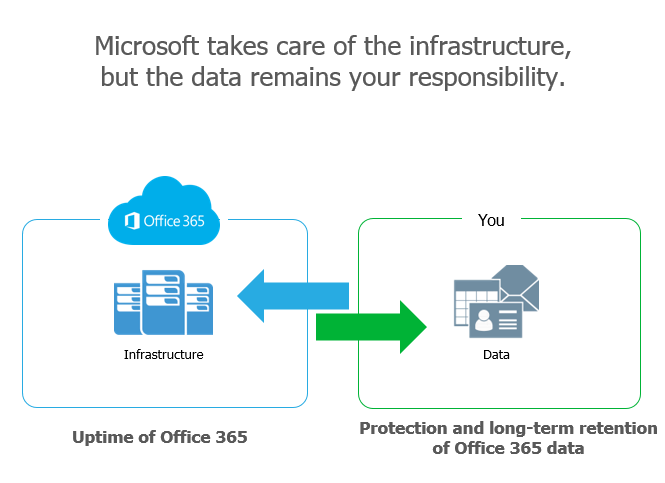 To avoid this altogether, you need to truly have complete access and control of your business-critical data. You also need full data retention along with granular recovery, bulk restore and point-in-time recovery options at your fingertips. That's where our Cloud Veeam backup for Office 365 comes in.


Why Cloud O365 Backup for Microsoft Office 365?

Powered by Ctelecoms & Veeam, our Cloud O365 Backup solution eliminates the risk of losing access and control over your Office 365 data including Exchange Online, SharePoint Online and OneDrive for Business – so that your data is always Hyper-Available and protected.
Cloud O365 backup stores and protects your data on the cloud so that you can easily access and recover exactly what you want, whenever you want. Besides, Cloud O365 backup empowers you to:
• Take control of your organization's Microsoft Office 365 data.
• Reduce the time and effort needed to find and restore email data.
• Protect against data loss scenarios that are not covered by Microsoft, such as accidental deletions.
• Facilitate the migration of email data between Microsoft Office 365 and on-premises Exchange
• Enhance your Office 365 data protection against security threats and retention policy gaps.
• Quickly restore individual Office 365 items and files with industry-leading recovery flexibility.
• Meet legal and compliance requirements with efficient eDiscovery of Office 365 backup archives.


Get a Free Trial of Cloud O365 Backup!

As a prominent Gold Microsoft & Veeam Partner as well as Veeam Silver Cloud & Service Provider in Saudi Arabia (Jeddah, Riyadh and the entire western part of KSA), Ctelecoms is the exclusive provider of Cloud O365 Backup in Saudi Arabia. Talk to one of our experts today and let us get you started with a free trial of CloudO365 Backup.
---